Guernsey residents were treated to a spectacular evening air display on Tuesday 6 September, as the world-renowned AeroSPARX pilots took to the skies above the island's main harbour. 
Thousands of islanders turned out at 8.30pm to watch Guy Westgate and Tim Dews pilot their Grob109b motor gliders through a series of thrilling aerobatic manoeuvres, while using wingtip pyrotechnics and LED light shows to create stunning patterns across the sky at dusk. 
The event was organised to mark the 10th anniversary of Guernsey-based group Sydney Charles, a leading aviation insurer. It was the first time permission had been given for a display of this kind to take place in Guernsey.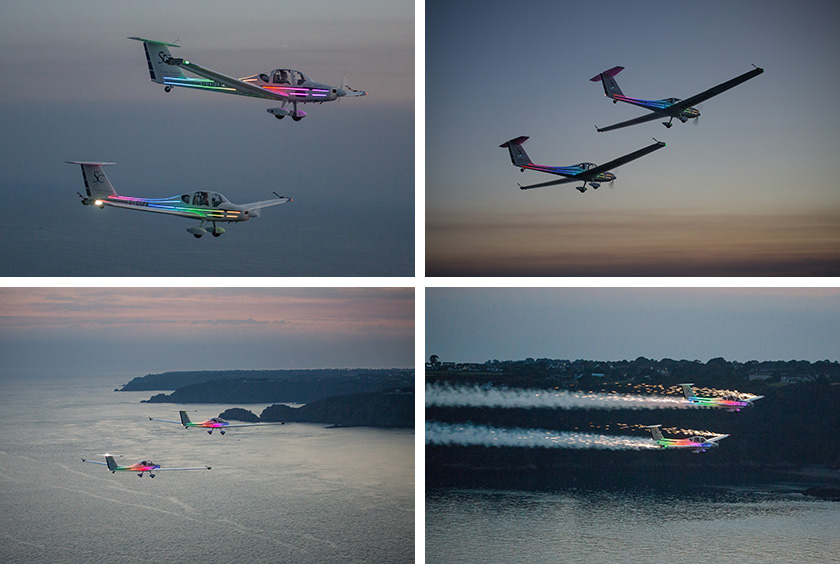 Director Philip Lepp was delighted so many people had turned out for the event: 'We have supported and sponsored AeroSPARX for years and our anniversary was a great excuse to get the team over and give islanders the opportunity to see them perform,' he said.
'I'm delighted AeroSPARX drew such fantastic crowds. It was a very special way to celebrate 10 years of Sydney Charles.'
Sydney Charles Group and AeroSPARX would like to thank the Air Display Director, the Director of Civil Aviation, Guernsey Harbours and the RNLI for their help and co-operation in enabling this to take place.