Aeris Aviation Limited chose Guernsey to launch their shared ownership scheme of the Eclipse 550 Light Jet and we were delighted to be one of the sponsors of the evening.
Two jets were flown in to the event that was held in the ASG private hangar at Guernsey Airport on December 17th.
UK based Aeris Aviation is the exclusive European Distributor for Eclipse and both Chairman, Bruce Dickinson (legendary lead singer with Iron Maiden), and CEO David Hayman are demonstrator pilots for the Eclipse.
As Marilyn Mahy, Associate Director at Sydney Charles explains, "Light jet ownership makes perfect sense for Guernsey, we have a relatively small airport, but as an international centre for finance, we do business with a growing network of on and offshore destinations that need to be accessed quickly and cost effectively. Sydney Charles chose to co-sponsor the event because, as a leading aviation insurer, our clients number pilots of prop aircraft, as well as businessmen and women that spend a lot of time travelling and the Eclipse shared ownership scheme has great potential for them."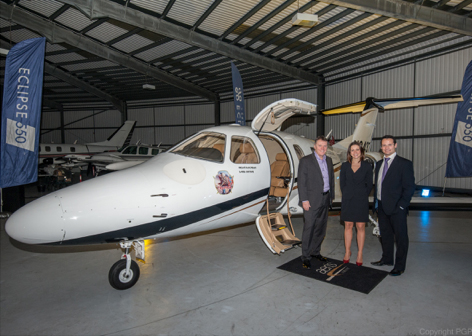 L to R: David Hayman of Aeris with Marilyn Mahy & Jody Bisson from Sydney Charles.