Sydney Charles is pleased to have supported the latest Age Concern - Guide to Services in Guernsey.
Financial planning for your future is important at any age but for those who are retired or nearing retirement, making the most of their income is crucial.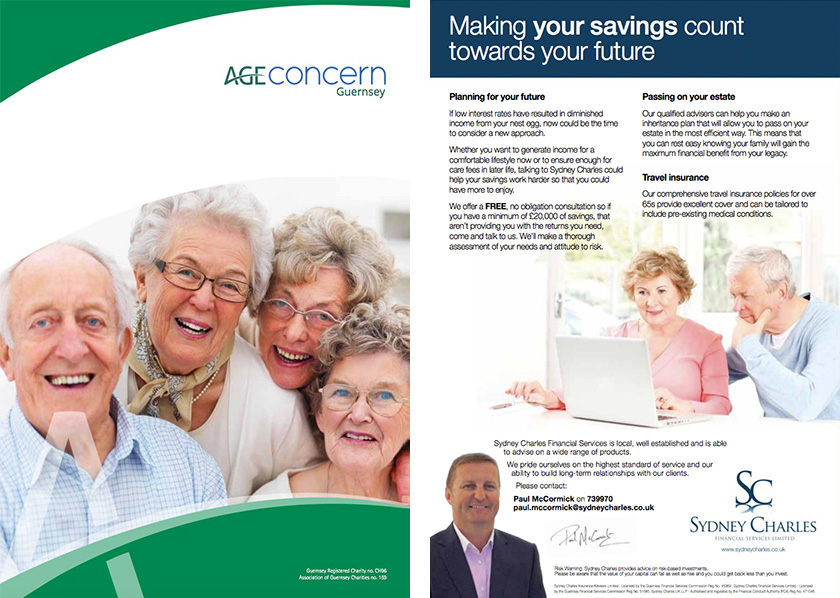 As Paul McCormick, one of our Financial Advisers is keen to point out: 'For anyone with deposits and savings, it's possible that low interest rates have resulted in diminished returns and we could help with a new approach to generate the income which is so important to a comfortable lifestyle in later years.' 
He adds, 'We also know that inheritance is often a concern of seniors and we can assist in planning that will allow them to pass on their estate in the most efficient way. Unfortunately it's not quite as clear cut as saving up for your retirement and then sitting back and enjoying it these days, but that's where we come in.'
Sydney Charles offers a free, no obligation consultation to anyone with a minimum of £20,000 of savings who is looking to improve their retirement income or is keen to give their family the maximum financial benefit from their legacy.
To read our full terms and conditions and e-mail disclaimer notices, click on http://www.sydneycharles.co.uk/about-us/terms-and-conditions.aspx
To view the latest edition of Age Concern - Guide to Services Guernsey, click here https://issuu.com/excellmedia/docs/ageconcernguernseyebook?e=16732296/43301266